THE POWER BLOG
Last summer, my friend David Gruber, an attorney well-known not only for his impressive legal acumen but for his prolific advertising, contacted me about his popular It's Aaron campaign featuring NFL great Aaron Rodgers. Camp Hometown Heroes, a charity I co-founded for children of fallen U.S. service members, had been selected for the third season of this campaign. During these short documentary-style videos, Rodgers surprises a charity executive, child or others who are serving the community or facing hardship. As one would expect, here in Packer Nation, a surprise visit by arguably one of the most popular athletes in the world creates some compelling video moments.
Our It's Aaron video was released just before 10:00 a.m. on a recent Wednesday morning. Given the Packer's gut-wrenching loss to the Seahawks in the NFC championship game, I was afraid our video might be released to the world with a whimper. After all, the media circus has been focused on the two quarterbacks battling it out in this year's Super Bowl, Russell Wilson and Tom Brady. Well, the results are in and I am a fool.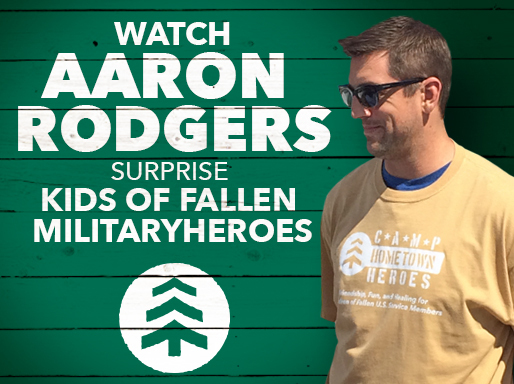 Once our video was released to the world on YouTube, I felt compelled to compulsively check our viewing statistics every 30 minutes. What started at 10:00 am with 29 views grew to 17,774 views by 5:44 pm. While not earth-shattering, I was pleased that folks were paying attention.
Yet, each time I refreshed the page and saw the statistics, my heart raced and warmed as the numbers grew at a jaw-dropping clip.
7:30 pm 39,000 views
8:30 pm 47,000 views
9:30 pm 59,000 views
9:45 pm 81,000 views
11:30 pm 144,000 views
8:23 am 218,360 views
And now months later: 474,648.
Beyond the views, as a direct result of this viral video, our charity received 175 financial contributions totaling over $150,000, 200 volunteer submissions, offers of donated land and retreats, and most importantly inquiries from other families of fallen U.S. service members who desire the opportunity to heal at Camp Hometown Heroes.  This coming summer, Camp Hometown Heroes will welcome a record number of children of fallen U.S. service members to our camp free of charge.  Thank you, Aaron Rodgers, David Gruber and hundreds of generous contributors.
Aaron Rodgers has been selected as the NFL's MVP for his on-the-field performance. Yet, for kids of fallen troops, Rodgers will be our viral hero who put a small Wisconsin non-profit on the map.
To support Camp Hometown Heroes please visit:  www.hometownheroes.org
Photos Courtesy of Gruber Law